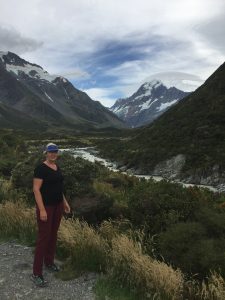 Hooker Valley, Mt Cook
Part two of the south island holiday, exploring a small part of the Southern Alps. Heading north from Dunedin by car we drove up the coast getting as far as Oamaru to stay the night. Took advantage of our short stay in Oamaru to check out  Steampunk HQ (well worth a visit) full of crazy creations and lots of fun. also went down to the beach at sunset to catch a glimpse of the little blue penguin that makes itself at home there.
For the safety of the penguins the council has fenced off the main nesting area, (understandable) but they have built a couple of grand stands and charge spectators to watch them come up through the floodlit corridor, a nice close up view but pretty unnatural in my view, and photographs and videos are banned!! So we opted for the more natural observation post on the breakwater still a fair distance from their landing point but with a pair of binoculars and good eyesight we did get to see a couple hit the beach before security came and evicted us from "council land" (I got the distinct impression they were more interested in stopping us from getting a free penguin sighting, than from protecting the penguins from our flash photography)
A wander through the Victorian Quarter, breakfast near the wharf, and a visit to Janet Frame's house as we left town, (could easily have stayed another day) heading to Mt Cook.
Three glorious days at Mt Cook doing lots of touristy things, timing was a little unfortunate as it coincided with Chinese New Year, so lots of overseas tourists and a bit tricky to get bookings on some of the excursions we wanted to do, but weather was great for the adventures we had in mind.
I was blown away by the boat trip on the Tasman Glacier Lake, got to touch Ice that had been frozen for thousands of years, it was like multi faceted jewels, and so pure we could drink the water as it melted. Got up close to the face of the glacier (not too close incase any icebergs carved off) Found out via the news a week or so later that a huge piece of ice had come away and caused 2meter waves and damaged the jetty we had used!
Day two was hiking up the Hooker valley to the hooker lake and Glacier. Yet again large ice blocks in the lake, close enough to the shore for those brave enough to reach in and pull it out. I just had fun with a piece that someone got bored with and left behind.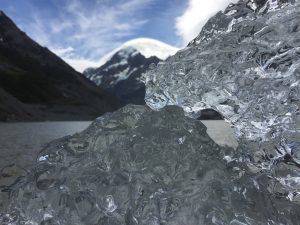 Last day the wind died down enough for our ski plane flight to land at the top of the Tasman Glacier, it felt like we were the only people there for a few minutes, such a quiet, peaceful, clear and clean expanse! Within a few minutes two more planes and a helicopter had joined us, also making the most of the window in the weather, but there seemed plenty of room for everyone. It's hard to appreciate the sheer magnitude of the glacier, and what seemed like a small landing strip didn't feel at all crowded with the extra arrivals. Still special to have had that few minutes up there on our own though.
So looking forward to spending more time in this part of our beautiful country.
Chrissie